Extract from the book
"Man overboard!"
The only thing that
must never happen is suddenly reality.
Everyone, not on watch, keeps a lookout and
points towards the
casualty. The skipper changes course and
prepares to turn
The Sea Stallion around. There are constant
reports of bearing and distance as The Sea
Stallion beats its w
ay back to make
the rescue.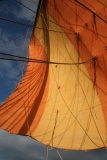 Dealer and distributor
To buy the book or to be a dealer,
send a mail to Nautisk Forlag info@nautiskforlag.dk